*This post may have affiliate links, which means I may receive commissions if you choose to purchase through links I provide (at no extra cost to you). Thank you for supporting the work I put into this site!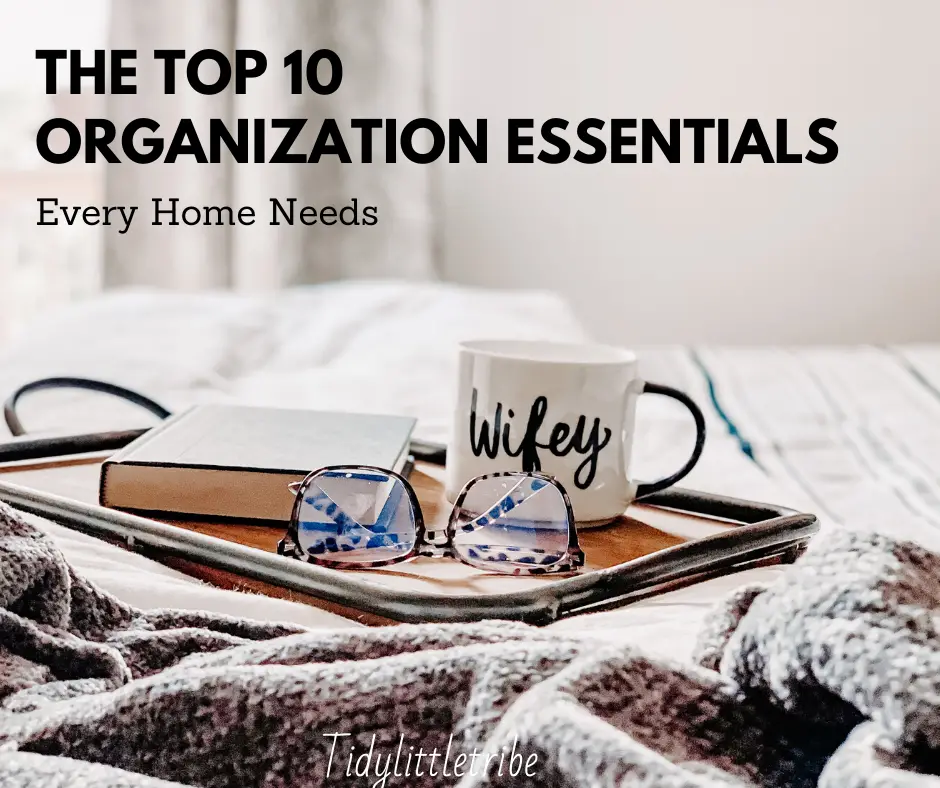 Getting organized can feel so overwhelming at times. What can make it even harder is when you do not have the proper tools to complete the job. I would compare it to building a house. You can draw up the most perfect thought out plans but if you forget to lay the foundation your house is not going to last very long.
Today I wanted to share my top 10 organizing essentials that will help you lay a foundation that will not only get you organized but will keep you organized. 
BINS & BASKETS
Bins and baskets can be used in any room of the house for a variety of different things. Bins that are clear and have tight fitting lids are perfect for kids rooms or the garage. There are also plastic bins of all sizes that work super well in kitchens and bathrooms. Fabric bins are more suitable for high traffic areas like a living room or playroom. The possibilities are endless, here are some of my favorites….For smaller spaces , For garage & storage , Decorative , Sturdy & Decorative
FOOD STORAGE CONTAINERS
There are so many options when it comes to food storage containers in the kitchen. Air tight containers that are see through are great for bulk and non-perishables. Plastic bins without lids work wonders for things like the pantry and for smaller items that might go in a drawer or cupboard but still need contained. If you are looking for more info on how to organize your kitchen here are a couple places to start… How To Organize Every Drawer Your Kitchen & How To Organize Every Cupboard In Your Kitchen.
LABELS
Labels are essential to staying organized. They are especially helpful to other members of your family who do not always remember where everything belongs. Here are a few of my favorites… Chalk Labels , Multi-purpose Labels, Decorative, Interchangeable
HOOKS
Hooks keep stuff off the floor including the garage and the basement. Cup hooks expand storage under shelves or cabinets. S hooks work with peg boards or towel bars. Adhesive hooks offer temporary storage such as during holidays. Here are a few of my favorites…. Cup hooks , S Hooks, Adhesive Hooks.
TRAYS
Use these to group items for a cohesive effect, such as on a coffee table, dresser. or nightstand- and on kitchen counters, bathroom surfaces,or entry consoles. A large tray can also turn an ottoman or bench into a table, for extra storage. Here are some examples…. Modern Tray, Farmhouse Tray
DRAWER INSERTS
Drawer inserts are one of my favorite organizing essentials. Virtually every drawer has its own solution, from mesh inserts for a desk or junk drawer; bamboo inserts for the kitchen; and fabric for dressers and closet bins. These things make such a huge difference in the function of all drawers. I promise you will not be disappointed. Here are some great ideas to ge you started…..Mesh Inserts, Wooden Inserts, Fabric Inserts.
PEG RAILS & COAT HOOKS
Mount these in the bathroom to hold robes and spare towels. You could also use them in the entryway to keep jackets and backpacks off the floor. I have also used them in the utility room to hang brooms and dustpans. Here are some good ones…. Pegs, Coat hook
SHELVES
Shelves make the most of unused wall space in practically any room. They come in a variety of sizes and styles and are an incredibly versatile way to keep organized.
TENSION RODS
Tension rods also have multiple uses. They are not just for curtains but also work well to keep cutting boards and pot and pans upright in your kitchen. I have also seen many people use them vertically under their kitchen sink to hang cleaning supplies.
LAZY SUSANS
Lazy susans have really made a comeback over the years. Gone are the days where your lazy susan is stuck in a deep corner cabinet in your kitchen. Lazy susans are now used for spices, office supplies, in your pantry, for cold and flu meds, in your refrigerator, and even for toiletries in the bathroom. Here are some of my favorites … For Kitchen, For refrigerator or pantry, For office
That's it friends! I hope this post has inspired to tackle that space once and for all.