*This post may have affiliate links, which means I may receive commissions if you choose to purchase through links I provide (at no extra cost to you). Thank you for supporting the work I put into this site!
For many people, bedrooms are often the last thing we think about when it comes to home renovations or makeovers. Bedrooms can also be a catch all space for so many people. It's that place where you throw everything you don't know what to do with, before the guests come over, you quickly shut the door and pretend it's not there. Am I right?
If this is you, don't be ashamed, this is a judgement free zone!
However, if you this IS you, but you want something different. Or you are tired of your disorganized, drabby, do nothing for me space, than I am going to teach you the 5 steps I took to take my bedroom from boring to beautiful in just 1 weekend!
Lets start with some before and afters…..
Here is a pic before the makeover. When we first moved into our house a few years ago, our oldest son was in this room, hence the reason it is painted blue. We then did some room swapping and I had no desire to repaint it, therefore I found a cheap comforter to match, threw a picture on the wall, and called it a day.
It is by no means terrible. But it was not my grand vision for a bedroom either.
Here is the BEFORE…..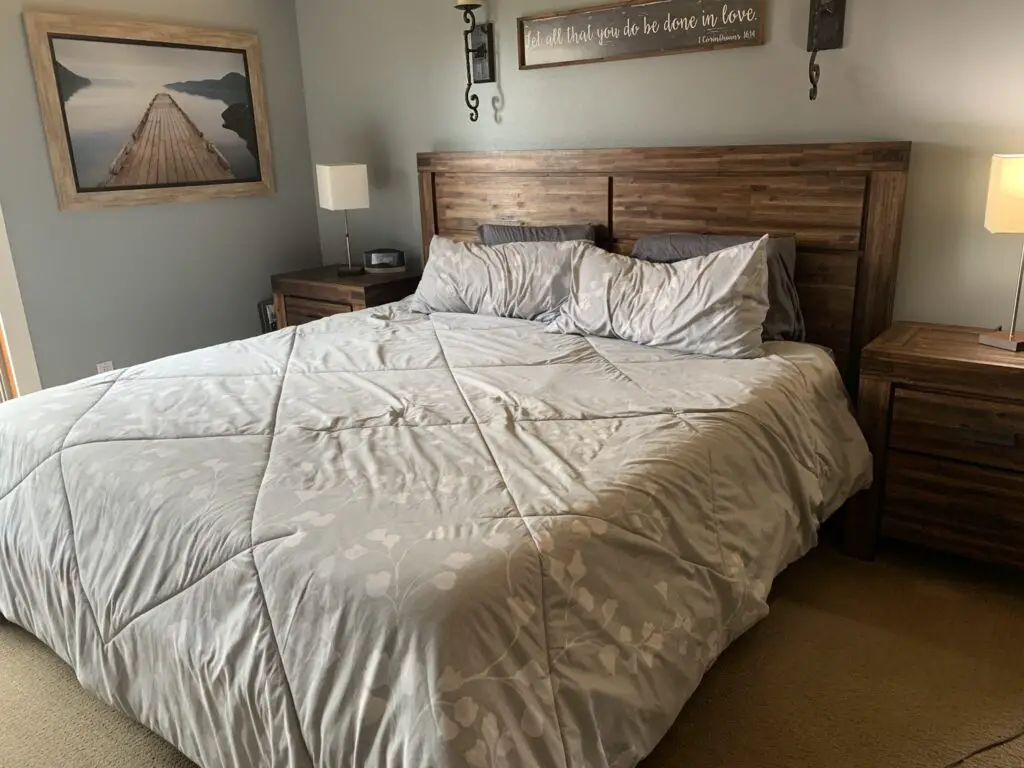 Here is the AFTER…..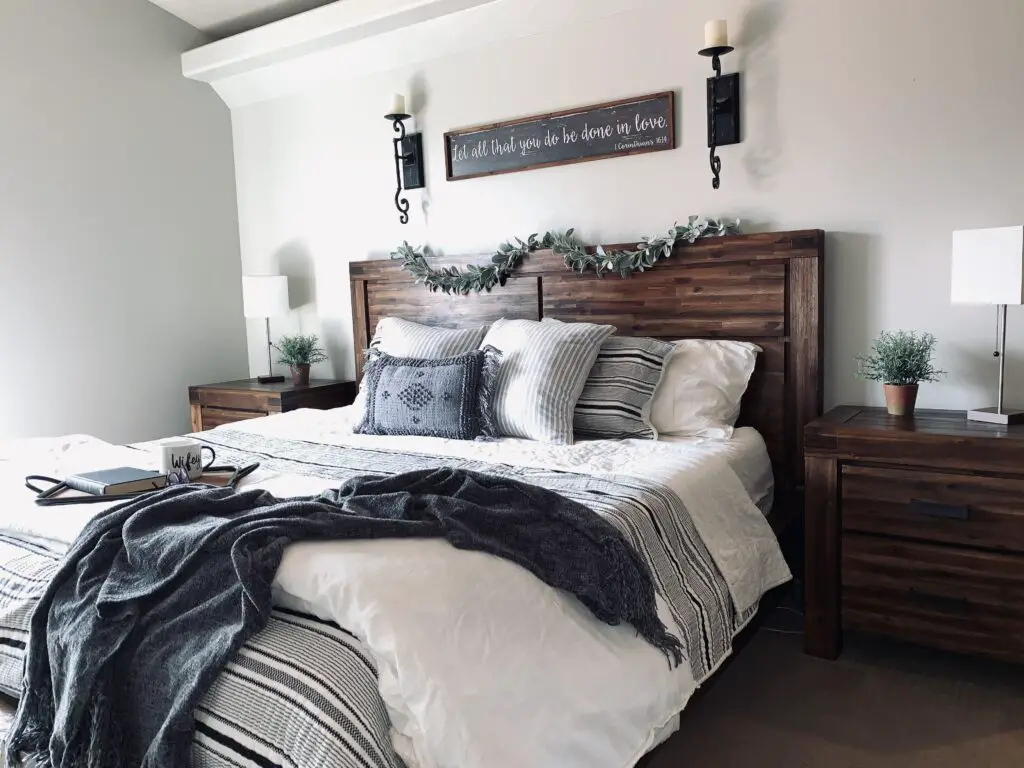 Here are the 5 steps you need to take for your own bedroom makeover.
Declutter
The first step is to do some minor or even major decluttering if you haven't already. Remove any and everything that doesn't normally belong in a bedroom. That means if you have been using your bedroom as a storage room, you may need to find a DIFFERENT STORAGE ROOM.
The only things that should really be in your bedroom is your bed, blankets, pillows, clothing, shoes, a dresser, and maybe a few other related items. The key is to keep it as simple and clutter free as possible.
You want your bedroom to be a place of relaxation. There is nothing relaxing about drowning in clutter and extra things.
Paint
Now that you have all of your clutter gone, and maybe some minor cleaning done, it is a good idea to think about paint. Do you have to paint? No you do not. However, you might be surprised at how much a couple gallons of paint can change the look of a room.
In my case, I knew I wanted my room to be much brighter. The color I chose is called Agreeable Grey by Sherwin Williams. I absolutely love this color for many reasons, mostly because it is a grey that pairs well with neutrals and wood tones, which are both my fave!
Rearrange
Now that you have everything decluttered and painted, it might be a good idea to do some furniture moving. It all starts with your bed: a simple rule of thumb is to place your bed on the longest wall in the room, and then place your remaining pieces of furniture in the most complementary position around it.
Once again, keep things simple and don't buy or keep more furniture than your room can comfortably handle.
Bedding
Let's talk about bedding. Bedding is oh so important when it comes to a bedroom makeover. Not only is it the centerpiece of the room, but it is also where you spend most of the time when you are in your room.
The key to bedding is LAYERS! Here are some tips for making your bed beautiful. Start by….
Make the bed with plenty of room at the top to fold over your blanket or quilt.
Layer your pillows with a mix of standard, king or queen, euro, and decorative sizes. Pillows add such a comforting feel to a bed. Don't be afraid to use them.
Use pillow shams instead of pillowcases to give a more finished look to standard pillows. Match these to your sheets, or use them to layer in another color or pattern.
If you like lots of layers (or for adjustable warmth), add a quilt or blanket. Place your duvet on top, turned halfway down, with the quilt either flat or turned down over it. Or fold your duvet in thirds at the foot of the bed.
Add a soft throw at the foot of the bed for a final touch–this is also a good way to break up the expanse of a king bed. You can also a decorative tray for reading, coffee, and those cozy breakfast in bed mornings.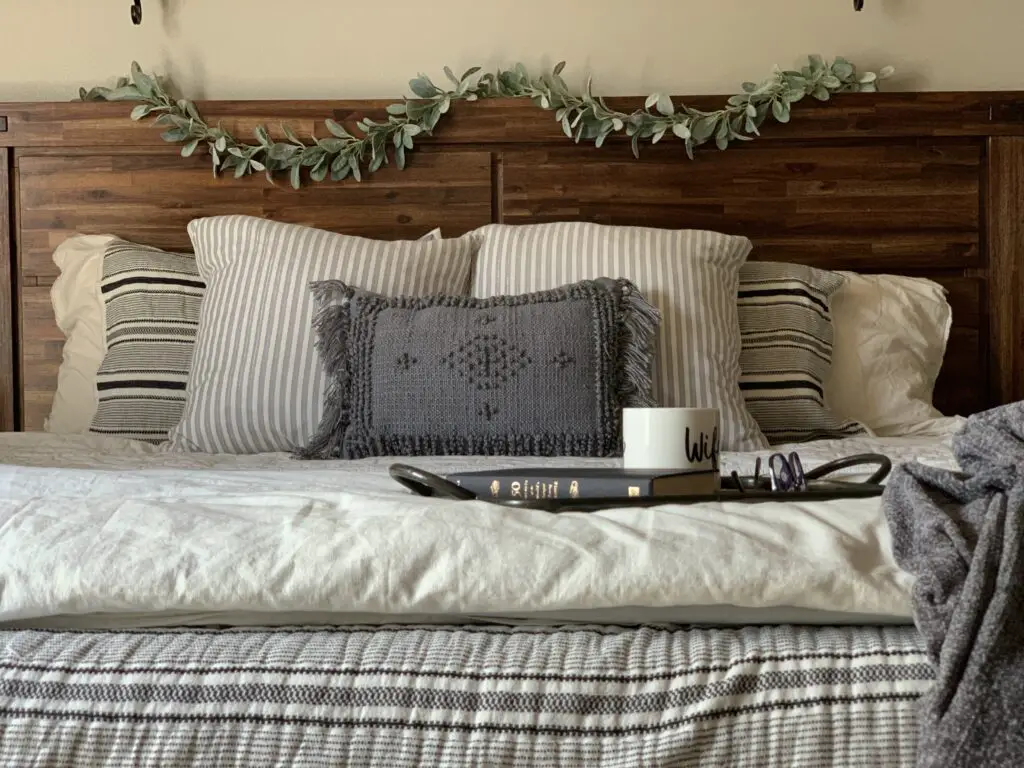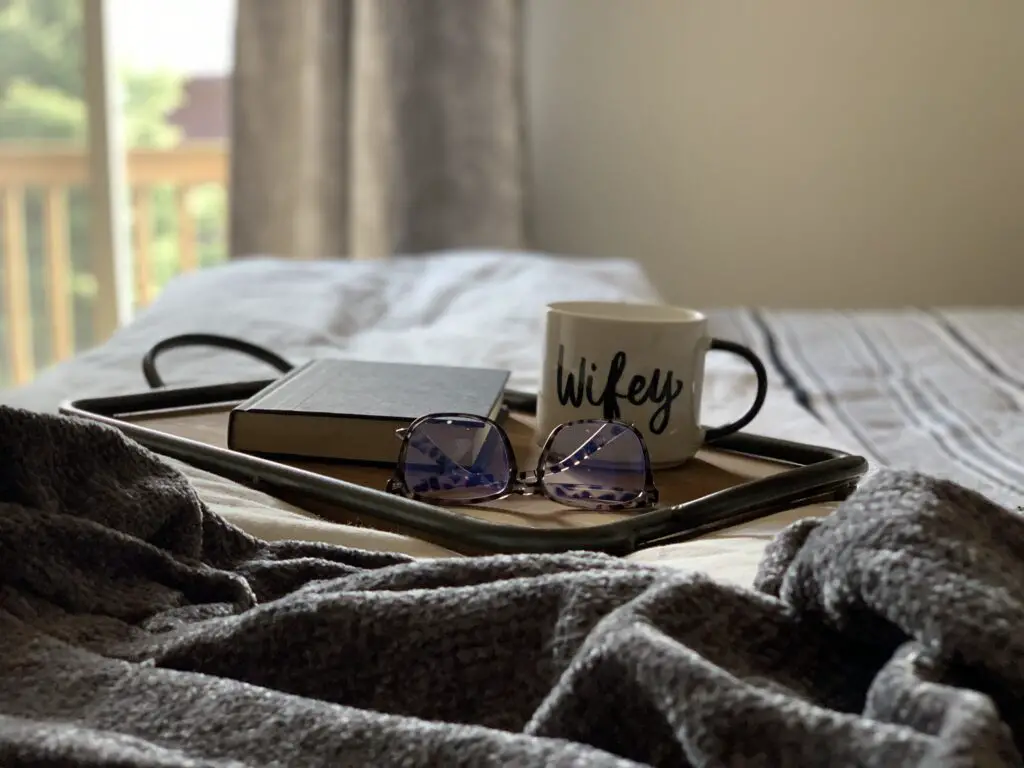 In case you are wondering, I got most of my bedding from Target. The quilt, duvet cover, shams, and sheets all came from the Chip & Joanne line called Hearth & Hand. My Euro pillows, small decorative pillow, and throw all came from At Home Furniture.
Accessorize
Last but not least, and the final touches to your bedroom makeover is to accessorize. This can mean anything from wall hangings to small little plants or picture frames on a night stand.
Most of my wall hangings stayed the same as before. I did however add some pops of green to the bed and the night stand. I don't like a lot of clutter on surfaces, so this little addition was perfect for me.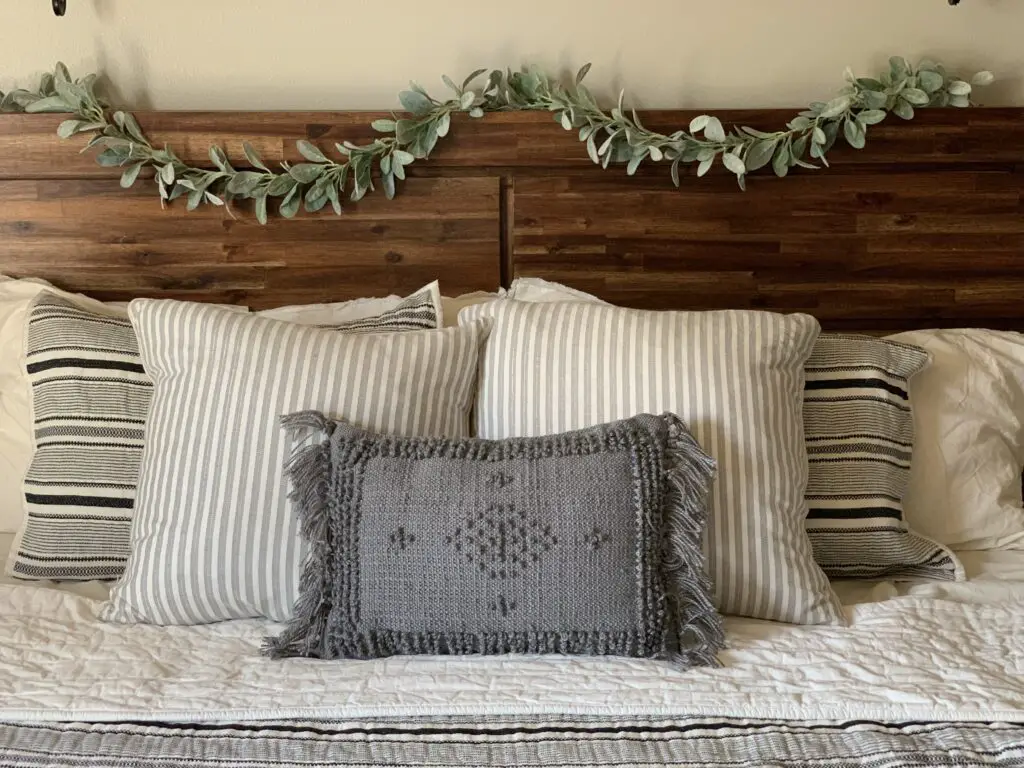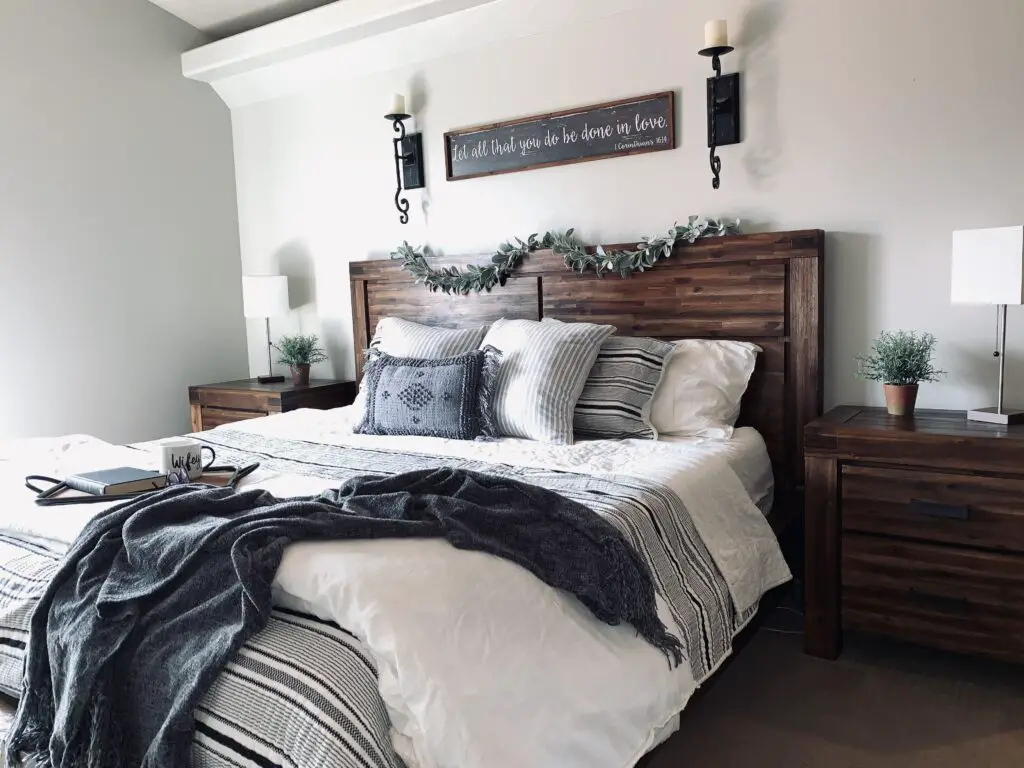 That's it! Bedroom makeover complete. I hope this post has inspired you to tackle your own bedroom makeover.
Feel free to leave a comment and let me know what you think?
Thanks for stopping!