*This post may have affiliate links, which means I may receive commissions if you choose to purchase through links I provide (at no extra cost to you). Thank you for supporting the work I put into this site!
We have been in our house for almost 4 years now and I can finally say that our living room is complete! In the past years we have done a few things like add a shiplap wall, and paint. (you can find that post here) But for the most part our living room has been a hodgepodge of mismatched furniture and whatever I could scrape by to make it work.
I have been planning this room out in my head for a while now, and have slowly accumulated bits and pieces from all over the place. I thought I took some good before pictures when we first moved in but unfortunately they are nowhere to be found. I was however able to find some pics of the house from the previous owners before we moved in.
I love looking back at how much we have done to this place. It has been a true labor of love and I am thankful for all the fun memories our family has working together to make it ours.
Here is the BEFORE…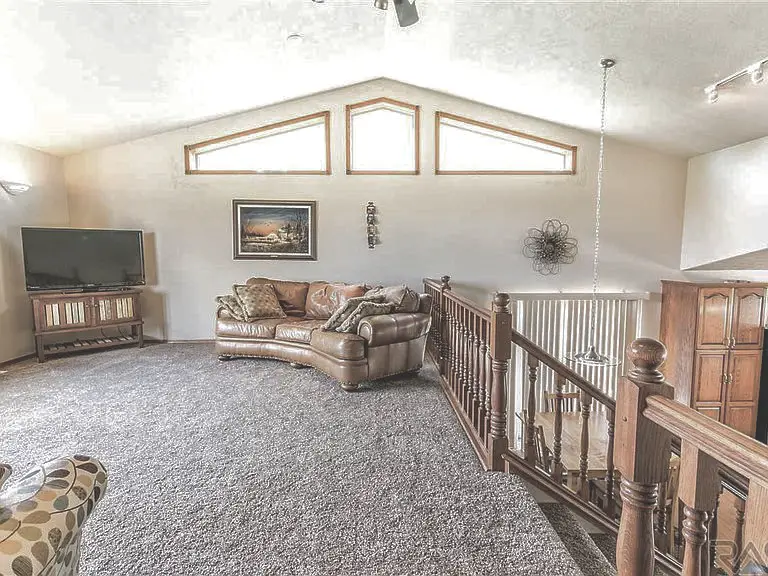 Here is the AFTER…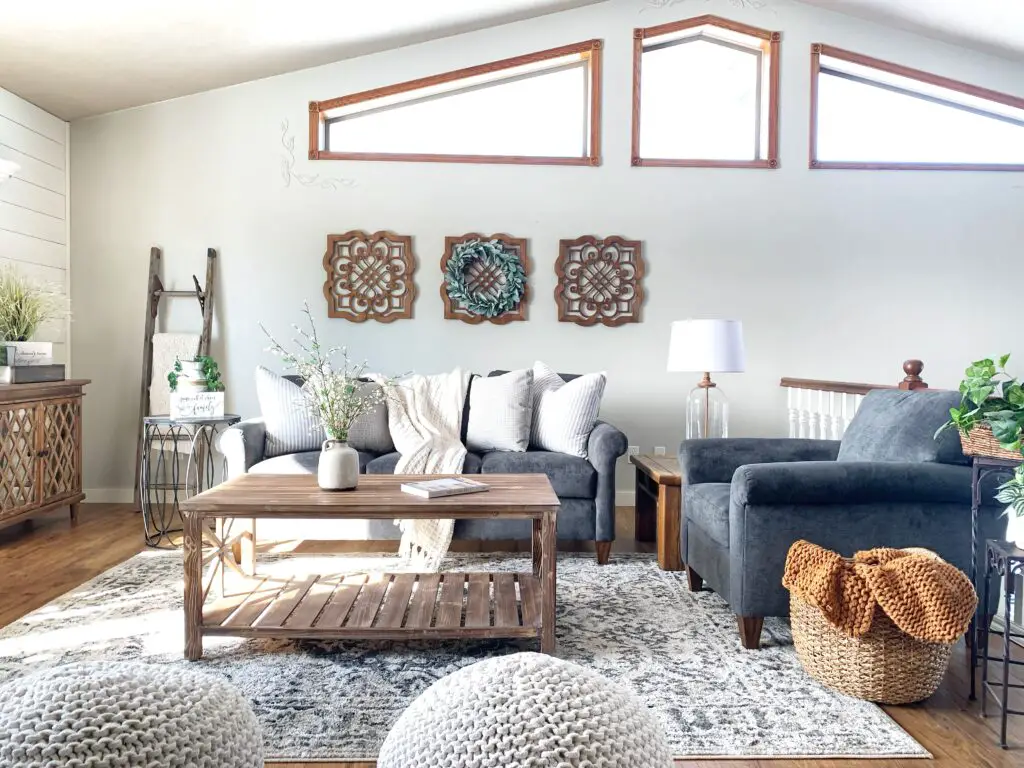 My goals for this makeover was to have a cozy yet still somewhat formal living room space. We do the majority of our TV watching downstairs but it is still nice to have more than one space to watch TV. I did not however want the TV to be the focal point of the room. So this is what we came up with…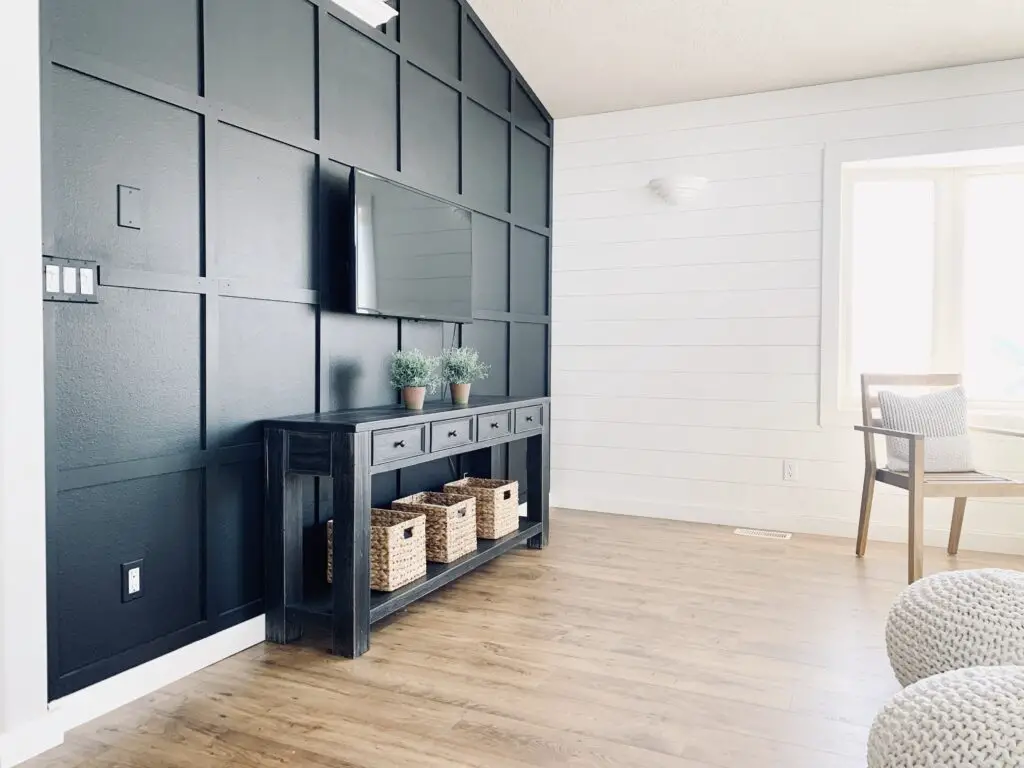 We applied board and batten (more on how we did that in another post) to the entire wall and I painted it black! It's crazy even typing that out because I would have never thought in a million years that I would paint a wall in my house black, but I absolutely LOVE it! The reason I went with both the board & batten and the black wall was so my TV didn't stick out like a sore thumb. It worked like magic! It also helps to break up and balance out the rest of the room! I call that a WIN!
The actual color we used is called Tricorn black by Sherwin Williams. Also note: If you should decide to paint any of your walls a dark color, make sure your sheen of paint is either in eggshell or matte. Anything like satin or glossy will cause your wall to have shiny blotches and it will look horrible! Don't ask me how I know! (Wink Wink)
FLOORING
As you can see, we also replaced the carpet with hardwood floors. We used the same stuff that we used in our kitchen and just ran it up into the living room. The flooring is a tongue and groove floating floor. It was fairly easy to install and seems to be very durable. We went through Carpet One here in town. The brand is Mowhawk and the color is Cedar Chestnut.
FURNITURE
Our couch and chair are both from Flexsteel and both are SUPER comfortable. Apparently furniture is in low supply and high demand these days so I am thankful we were somehow able to snag a few good pieces. We went through Home Furniture here in town and have been very satisfied.
DECOR
All decor came from a variety of places. The two poof ottomans came from Target. Wall decor and the cabinet in the corner both came from Hobby Lobby and pretty much everything else came from At Home Furniture.
Well now that you now where we picked up all our goods here are a few pointers if you are wanting to achieve a similar style…
POINTERS
Look for clean lines and not a ton of visual clutter. Remember, less clutter means less dusting! (I call that a win!)
I also like the look of gray, wood, and metal when mixed together. Try to also be aware of the texture of different pieces, things like décor, pillows, and throws all have a texture. Make sure there is variety. Blankets, pillows, baskets, and greenery all add softness and coziness to a room. Don't underestimate the power of those small details.
Play around with different pieces and arrangements until you find something you love. I usually rearrange a few times until I find what works. Don't be afraid to switch it up!
Think about scale, it is so easy for your room to either have too much furniture for the size or for your furniture to be too big for the space you have. If you have to shove everything against the wall that might be a sign!
Last but not least, is to make a space that you and your family love and enjoy! If your style isn't like anyone else's, who cares as long as it is yours and you love it!
You are the one that has to live there, right!