*This post may have affiliate links, which means I may receive commissions if you choose to purchase through links I provide (at no extra cost to you). Thank you for supporting the work I put into this site!
It's official, my little girl isn't exactly so little anymore! Why do kids have to grow so fast? Sometimes I wish I could just snap my fingers and go back, even if only for a day! Even though it makes me sad how fast my kids are growing, I am also learning to take great joy in all of the stages my kids go through. One of those joyous moments recently has been transitioning my daughter from a "little girl room" to a "big girl room." We both collectively planned out the details for what seemed like forever, but I am happy to say all that planning paid off big and I am over the moon excited about the results!
Lets start with a good ol before pic…..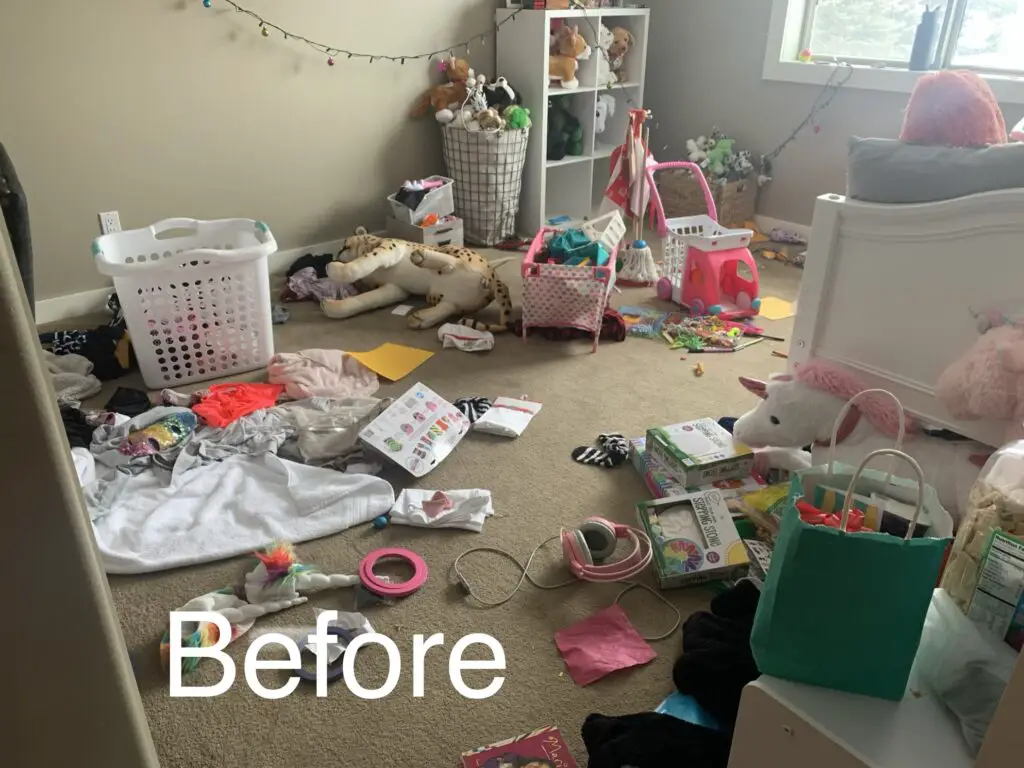 This was taken shortly after Christmas break, so as you can see there is a good amount of activity in here. Every time I would go in here I would cringe a little and close the door. Yikes!
All it took was a good plan, a few trips to the hardware store, and a couple snowy weekends.
Here is the AFTER…..
Here were my goals going into this bedroom makeover
A room that would grow with her as she grew.
Better and more storage solutions for all of her stuff (as you can see she has a lot of it!)
A cozy spot to curl up and read a book.
With all of that in mind lets get started…..
A ROOM THAT WOULD GROW WITH HER
We started by upgrading her bed from a twin to a queen. I wanted a bed that she could take with her someday when she moved out so this was a simple upgrade. Both the bedframe and headboard came from IKEA
When choosing all of her furniture and decor, I was aiming for something girly, simple, and clean, with a touch of class. We started by painting most of her room Alabaster White by Sherwin Williams and adding board and batten most of the way up her wall. I was a little intimidated by board and batten at first but it really is not as hard as it may look! It adds so much to the feel of a room and I would highly recommend giving it a try! Stay tuned for a future blog post on how to do this project.
Next we used some peel and stick wallpaper on the top half of the board and batten. Once again I was very intimidated and once again I was pleasantly surprised! It was very easy to apply and very forgiving! If you made a mistake or had a wrinkle, you can literally peel it all off and stick it back on. Just like a sticker, but SO much better! We found ours at Lowes and although it is a bit more expensive than paint it was worth it in my opinion. Here is the pattern we used in my daughters room.
For the bedding I wanted something that was classy and clean looking with some pops of color. I fell in love with both the curtains and the bedding from Target almost immediately. All I needed to do was add some accent pillows and comfy sheets.
The lamp, the baskets, the rug, the dresser, and all the pillows came from At Home Superstore. Love that place! Sometimes a little too much! (wink wink)
Here is another look at all the pieces pulled together….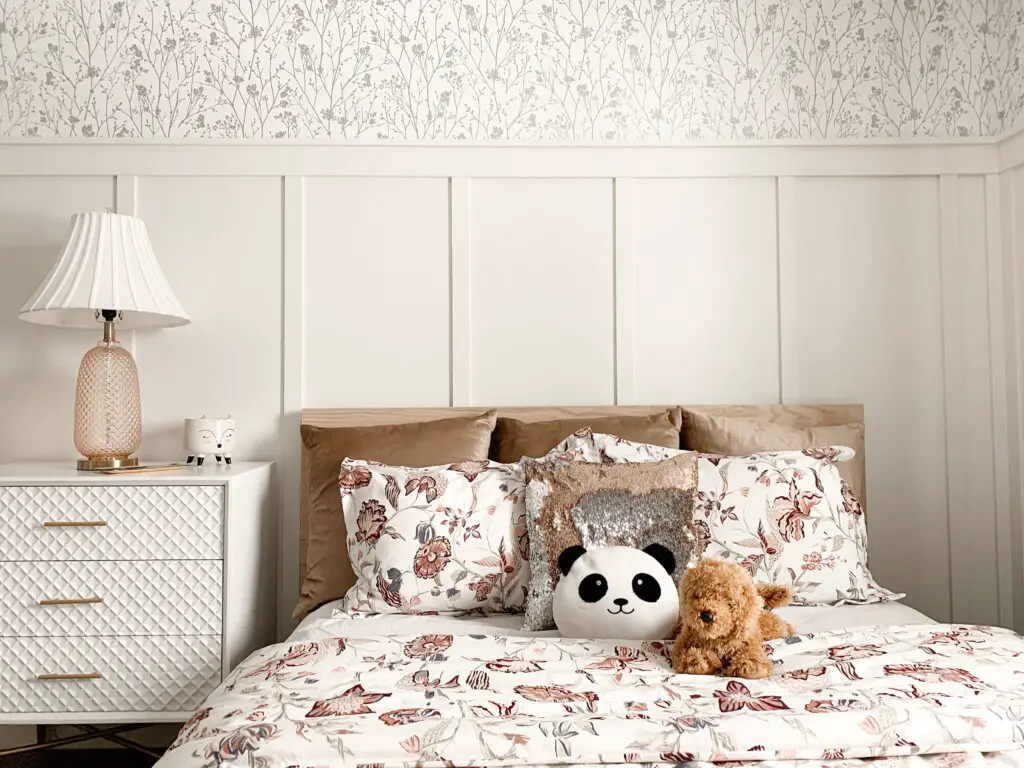 Better Storage
Next on my list was more and better storage. Prior to this room makeover she did not have much of a system. On top of that she has WAY TOO MUCH STUFF! The picture doesn't even do it justice. So we started by pairing everything down and keeping only what she truly loved. Next we made sure everything had a home. This is key if you want your kids to keep their rooms clean and organized! If you do not know where it goes than how are they suppose to know where it goes?
I plan to do a more detailed post about how we store everything in her room, but here are a couple cute pics to get you by in the meantime….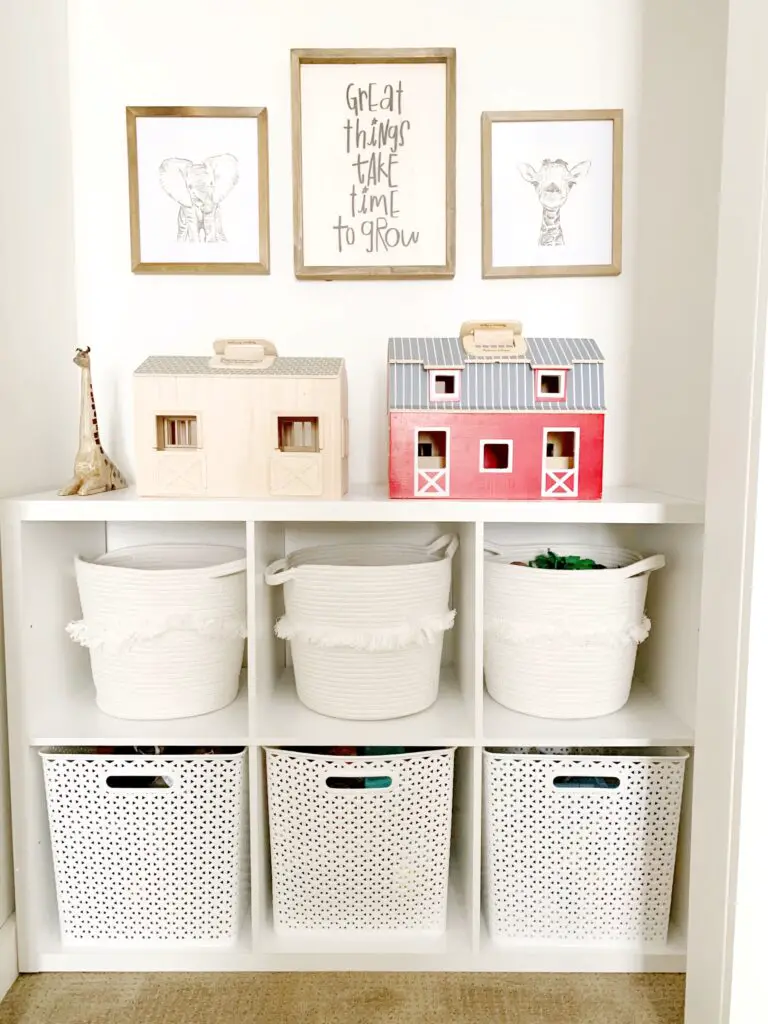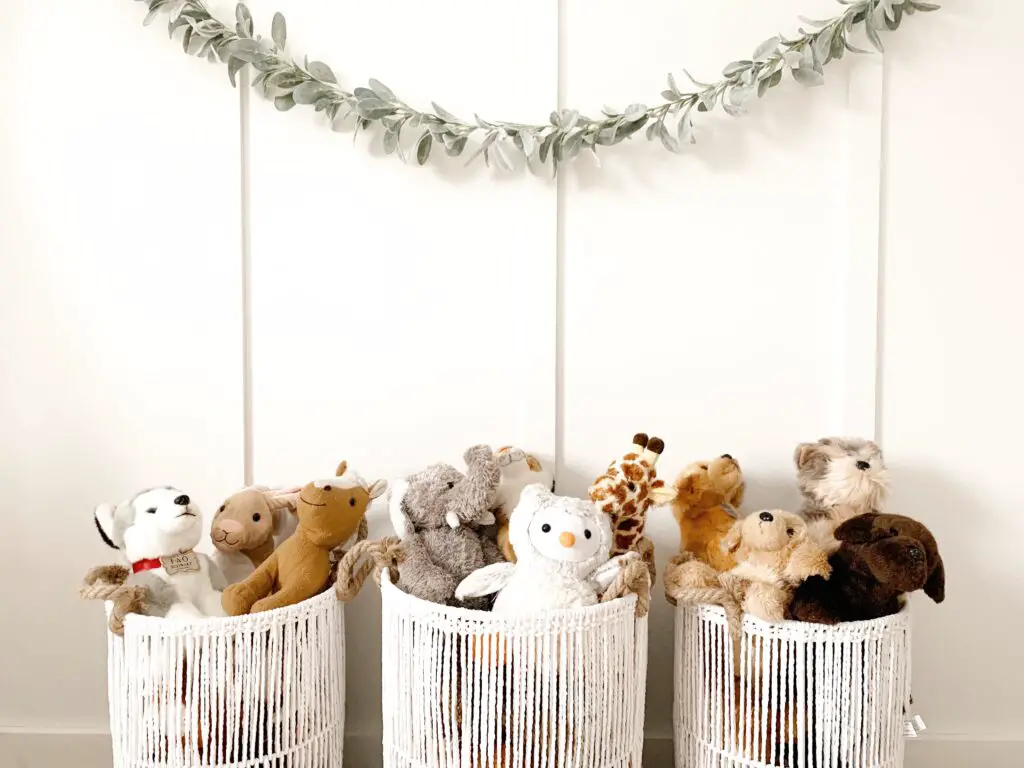 A Cozy Reading Nook
Last but not least on my list of things was a cozy reading nook. I wanted a cozy spot for her to curl up with a book, play her Ipad, or snuggle with the dog. I had been spying these hammocks on Amazon for quite some time and I finally pulled the trigger! It was very easy to put together and set up and my daughter claims it is the most comfy chair in the house! I would say that is a WIN!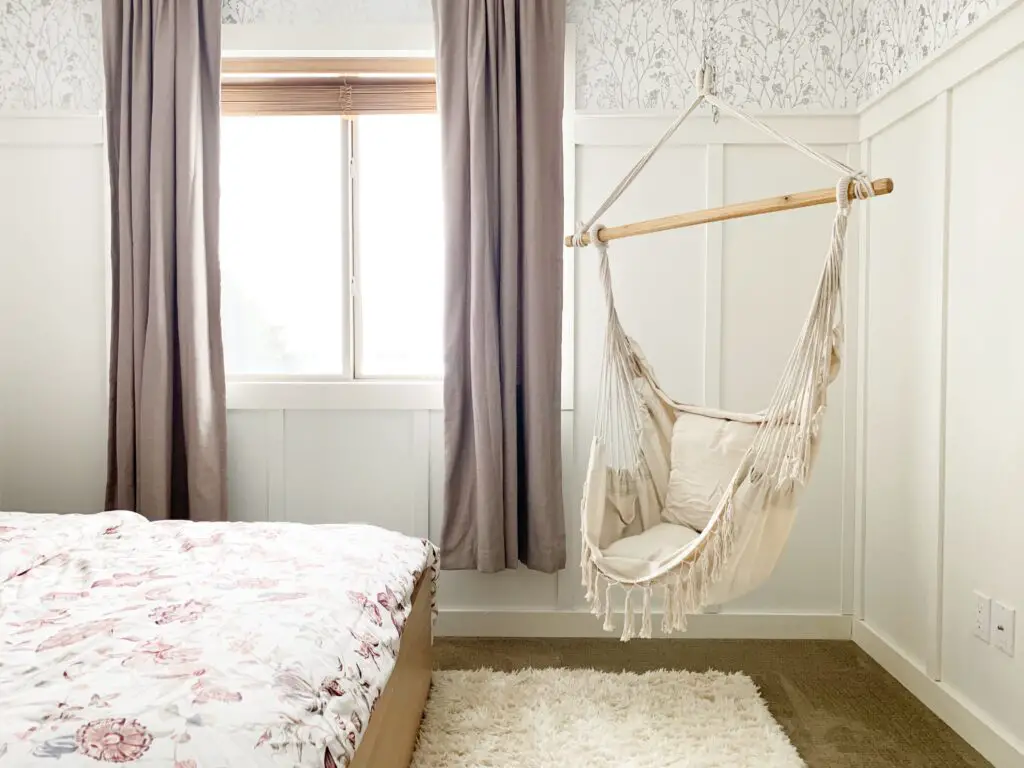 That's about it! Stay tuned for future posts on how we did our board & batten wall and how I organize all of her things! In the meantime I hope this inspires you to start dreaming of a room makeover in your house!