*This post may have affiliate links, which means I may receive commissions if you choose to purchase through links I provide (at no extra cost to you). Thank you for supporting the work I put into this site!
Summer is a great time to conquer all of those nagging house projects you have always wanted to do, but never got around to it. This is especially true this summer with everyone being home so much. The first project on our list was our deck. 
Our deck has been in rough shape basically since the day we bought our house almost 4 years ago. It was not in our budget to replace the deck, and the bones of the deck seemed to still be in good shape, therefore it just needed to a little makeover to put it back in business. 
After a bit of research to see what my options were, I ended up settling with is a product called Deck Over. It is made by the company Behr and I have always loved Behr premium paints so I thought I would give this one a try as well. 
I chose to go with a paint vs a stain because I did not want the hassle of sanding down my deck first. This product allows you to skip that process.
I also got an even better feeling on the product because as I was standing in line at Home Depot there was a man that was getting ready to paint his third deck using this product. He had nothing but good things to say about it and complimented how well it has held up for him. I always love getting first hand account before trying something new.
I am glad I took pictures before because the results were pretty shocking.
Here is BEFORE…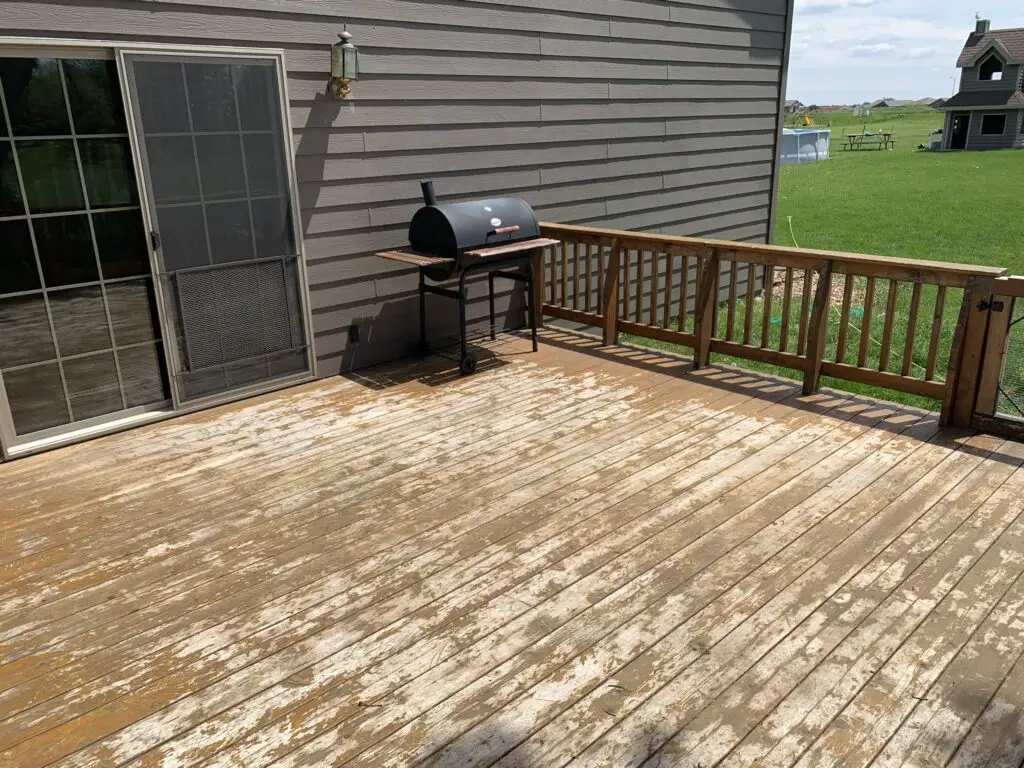 Here is the AFTER….
Wow! What a difference a little paint can make! Incredible!
If you are not familiar with Deck Over, there are different textures you can choose from. The paint is SUPER thick even when you choose a smooth texture. I chose smooth.
One of the reasons I liked Deck Over is because the final product ends up looking more like composite decking. If you like the look of composite but cannot afford it, this is a great alternative.
Here is a close up to give you a better idea….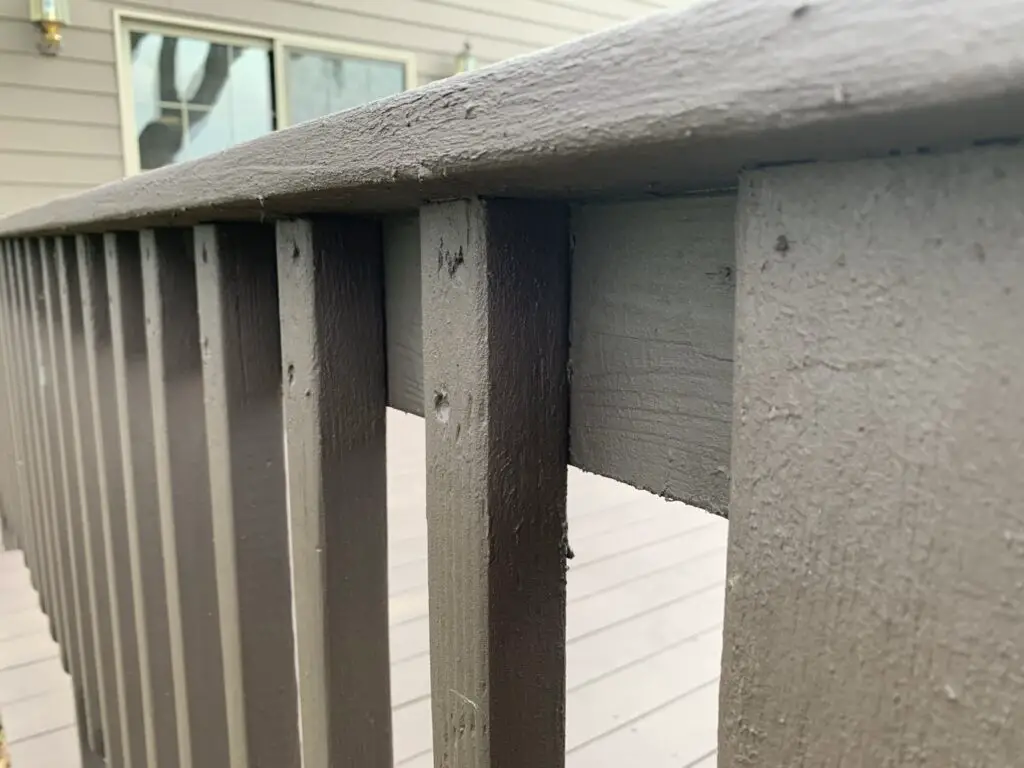 A FEW POINTERS
Make sure you thoroughly clean and pressure wash the entire surface you plan to paint, this includes all the railings too.
Make sure you plan ahead for weather, you do not want to start this if it is going to rain anytime soon.
You can use both a roller, paint brush, or both. I tried to use a roller for some of it but because of the thickness of the paint I felt it was easier to use a brush for everything.
Make sure you patch any broken boards, and sand and rough spots before you do any painting.
Here is a great video explaining step by step how it is done.
It has been about two months since we finished our deck. So far I am super happy with the results and can say that it has held up really well. I will try to update you sometime after our harsh winter season has come and gone. That will be the real test.