*This post may have affiliate links, which means I may receive commissions if you choose to purchase through links I provide (at no extra cost to you). Thank you for supporting the work I put into this site!
We are a few months into our 7th year of homeschooling!  It is crazy to think of how fast those 7 years have gone.  Of the many things I have learned through those years, one of those things would have to be how to keep everything organized…
One thing I think we can all agree on is that homeschooling generally comes with a lot of STUFF!  Everything from books, art supplies, learning games, and more!  It all adds up quick!  And if you are not careful it can get out of control and rather messy real fast! I quickly learned that my kids and I functioned better and learned so much more when our environment was less cluttered!
So today I wanted to share with you how we organize all of our books, art supplies, and learning games. Also the steps I take to keep them from piling up and getting out of control!
I thought I would start by showing you what our homeschool room looks like. This is a small space off of our downstairs living room. It has a ton of natural light (I have a thing for light, especially in the long winter months) and we do most of our schooling here!
Here is a pic…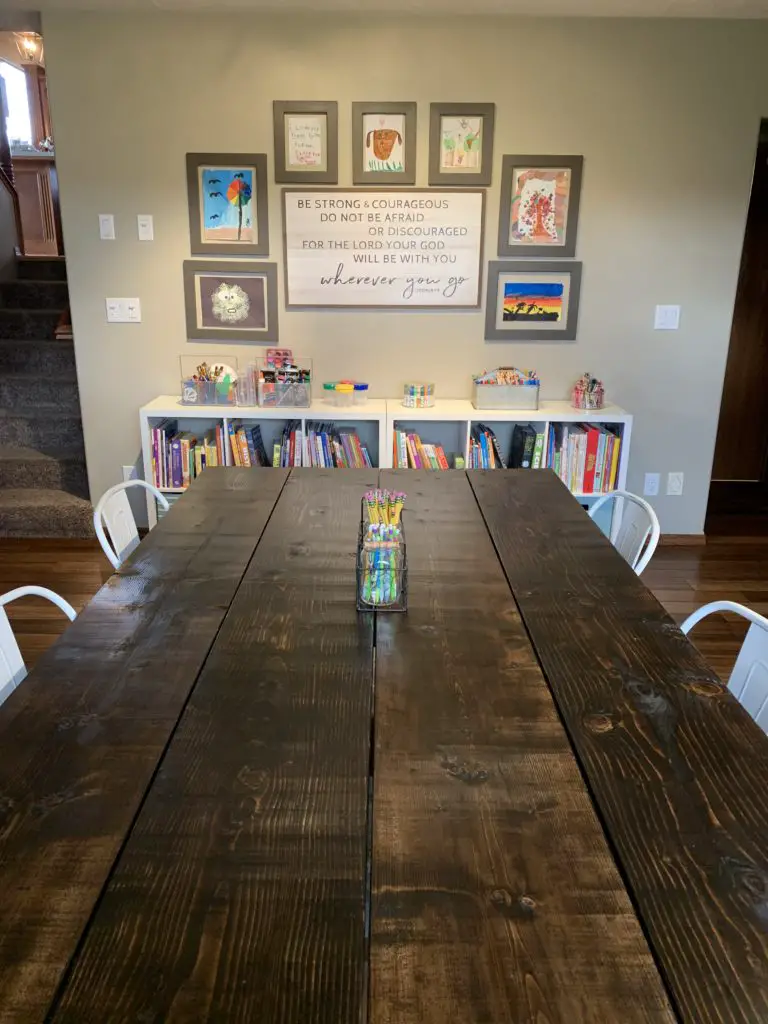 This is a table that my husband built not too long ago, ( I wanted a famhouse table but at the fraction of the cost ) I LOVE it and will forever cherish his hard work!  Everything you see on the far wall is the majority of what we use in our homeschool.
Here is a close up….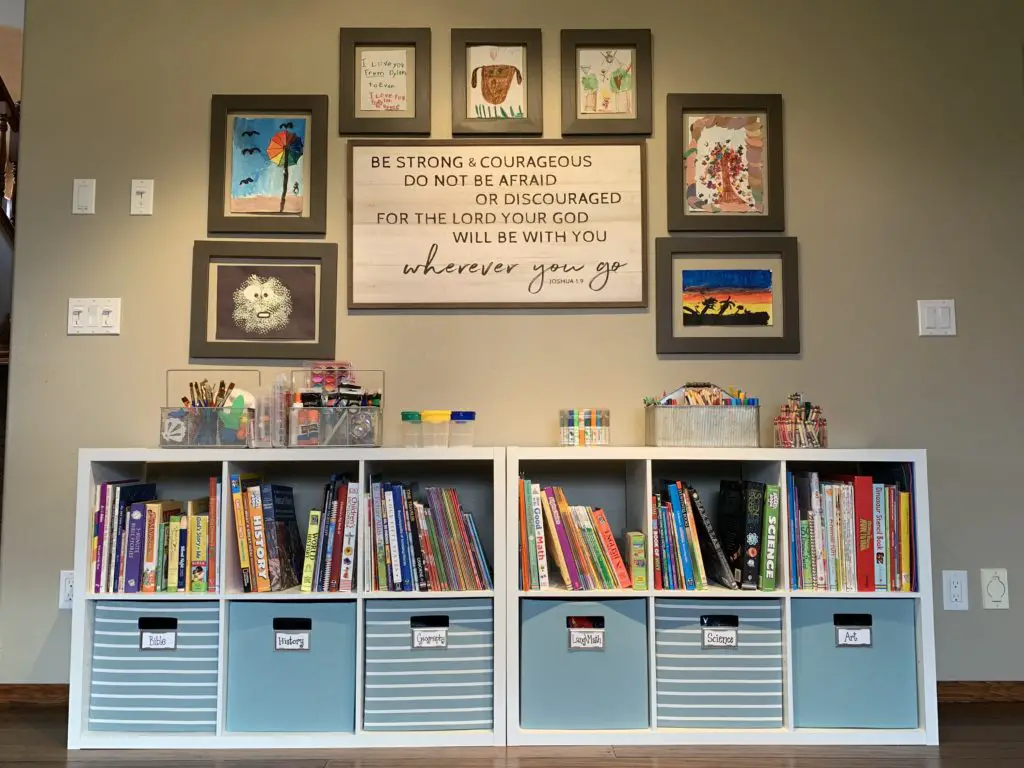 Here is how my system works….
I started by arranging everything by subject.  Each subject has one bin and one shelf of books that sits above it.
Here is a close up…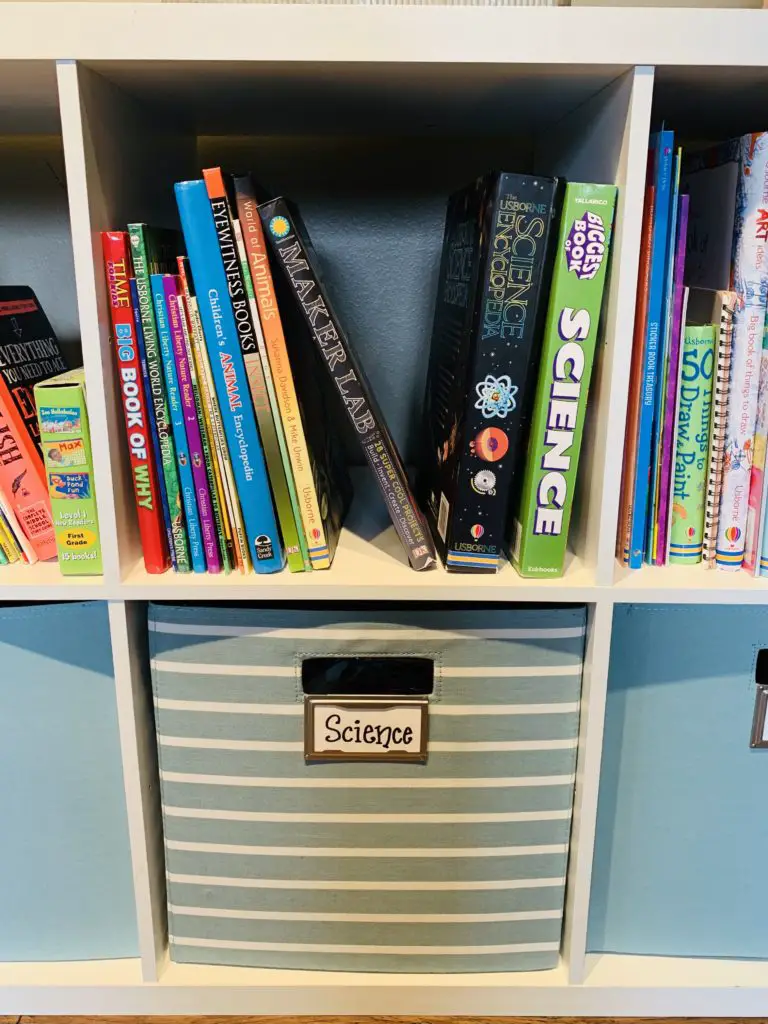 Each shelf has the books we currently need or plan to use for whatever we are studying.  These are not books that are part of our actual curriculum, they are books that generally tie into whatever we are learning!  For example: right now we are doing a unit study on Arthropods, so I only tried to put books that talk about insects of some sort. The reason I do this is because I feel like it really helps us to focus in on what we are currently studying, and any extra reading they do will pertain to that particular subject!
Below each shelf of books I have a bin labeled with that same subject. Here is a closer look….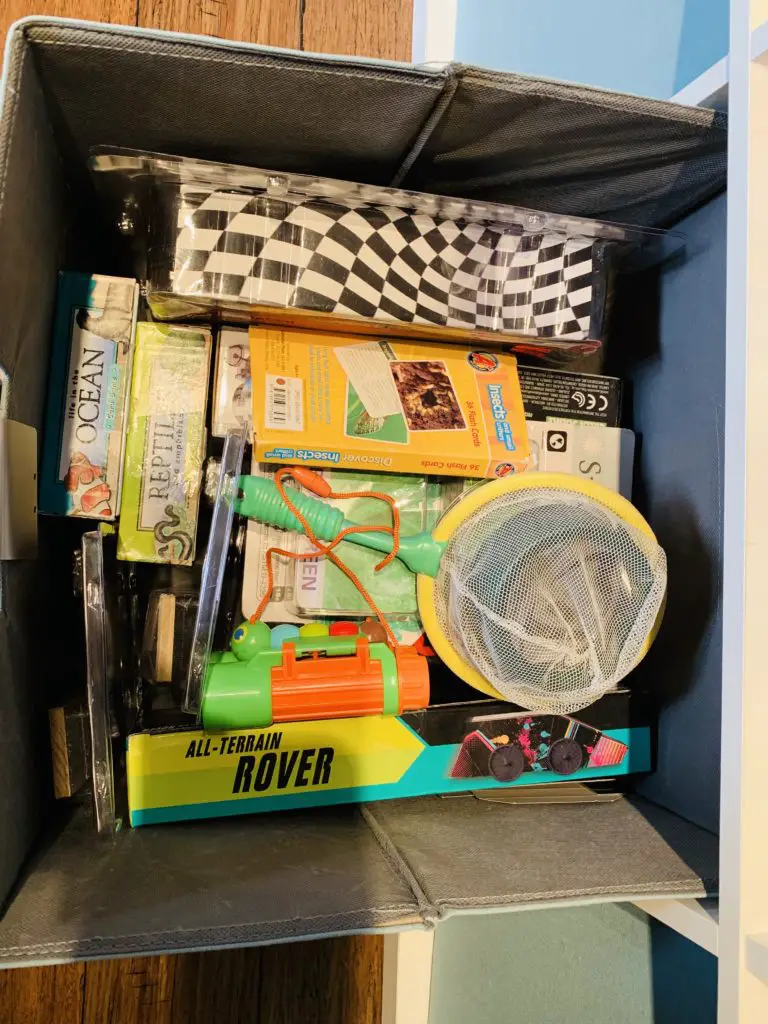 In each bin I store any games or fun activities that the kids can do that pertain to that subject. I also store any supplies we need for the unit study we are doing in here also.
Here is another example of some what I store in some other bins….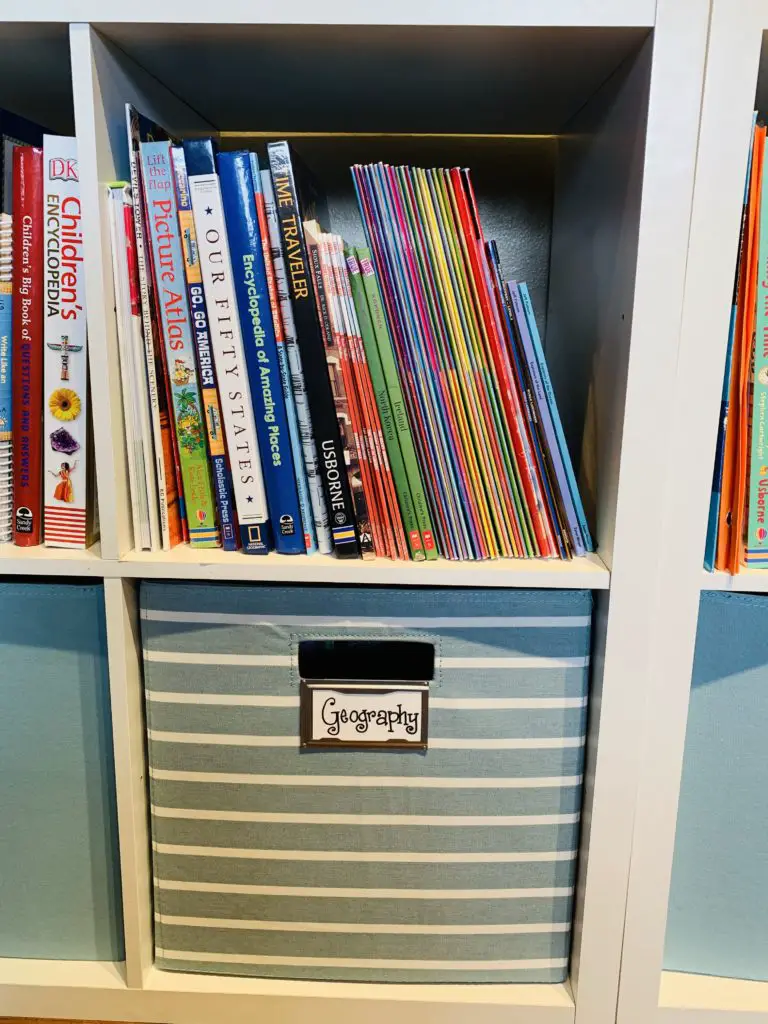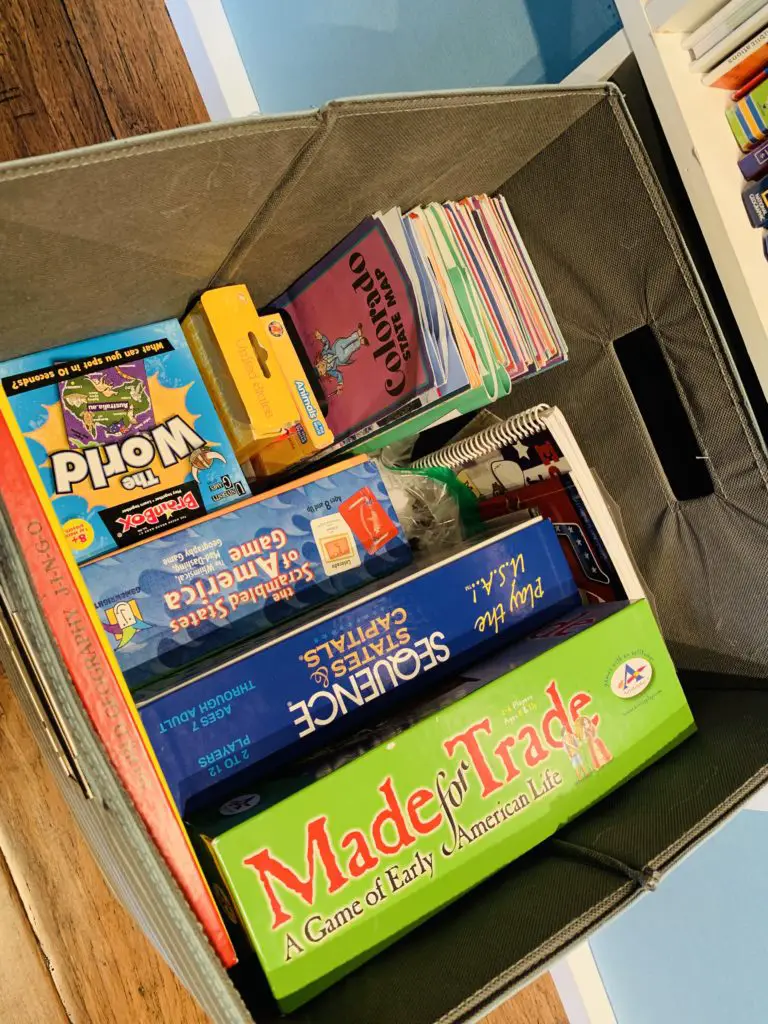 Here is another reason I LOVE these cubes. They really help me to evaluate what I have and what I can get rid of.  My rule is that if we cannot fit it on the shelf or in the cube, then it is time for something to go!  If we bring a new book or a new game into the house and there is no room in the cubby, we then choose which one we want to replace it with.  This helps tremendously to keep things minimal, and from piling up, and out of control!
Last but not least I wanted to show you how I organize all of our art supplies. This is something that used to drive me crazy when I didn't have a system.  I always had random pens, pencils, markers, crayons, scissors, and paint all over the place!  They always ended up scattered in a drawer or in some box stuffed in a closet or under a pile of books!  No one could find anything and it drove me crazy!
Here is what we do now and I absolutely LOVE it!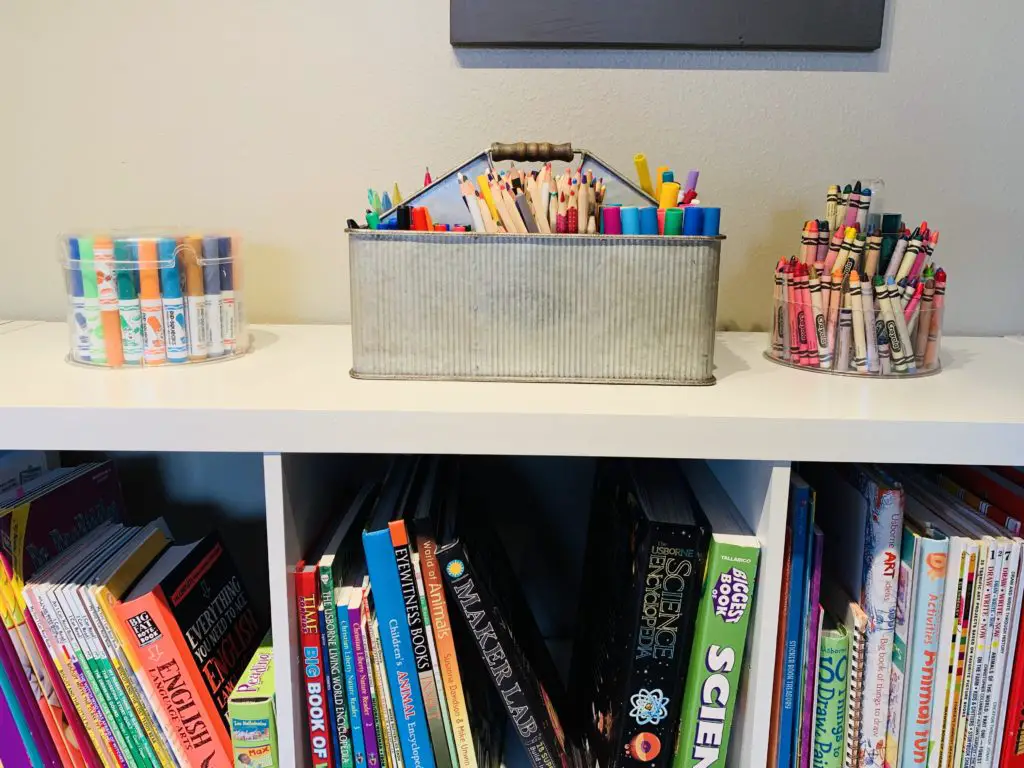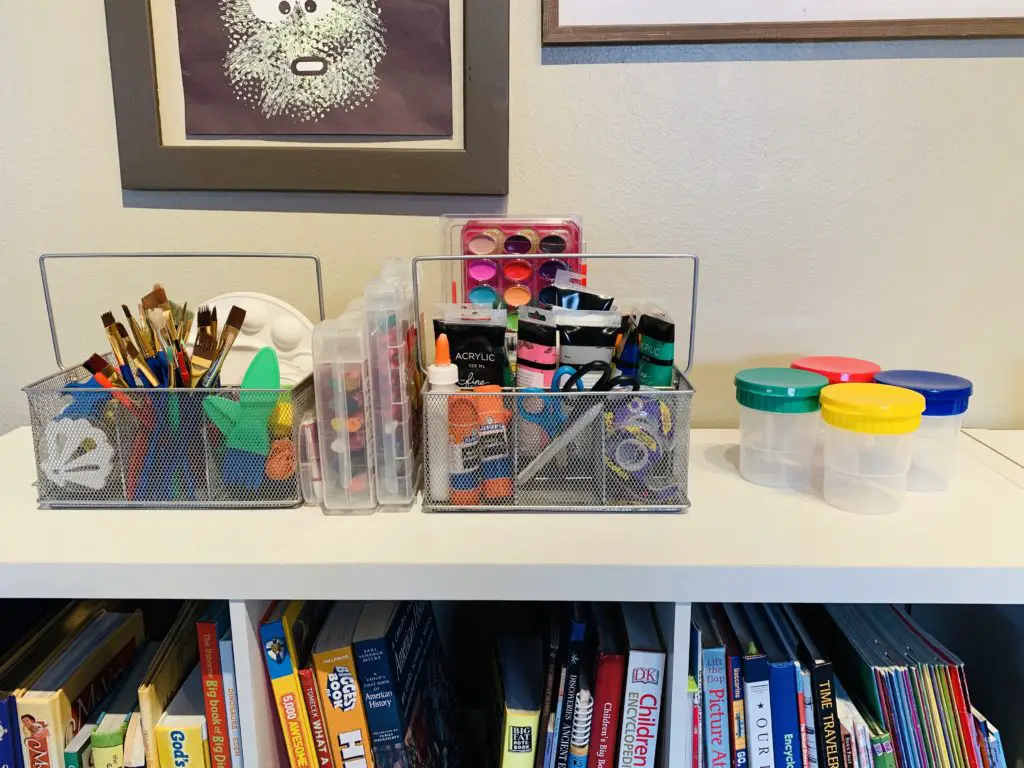 As you can see I store all of my supplies on the top of this shelf!  The first thing I did was I went to Hobby Lobby and bought some of these metal containers (I have also seen similar ones at Target!)  They have a ton to choose from and are absolutely PERFECT for things like colored pencils, markers, and paint.
Here is a better view on how much these things hold! It's a TON!…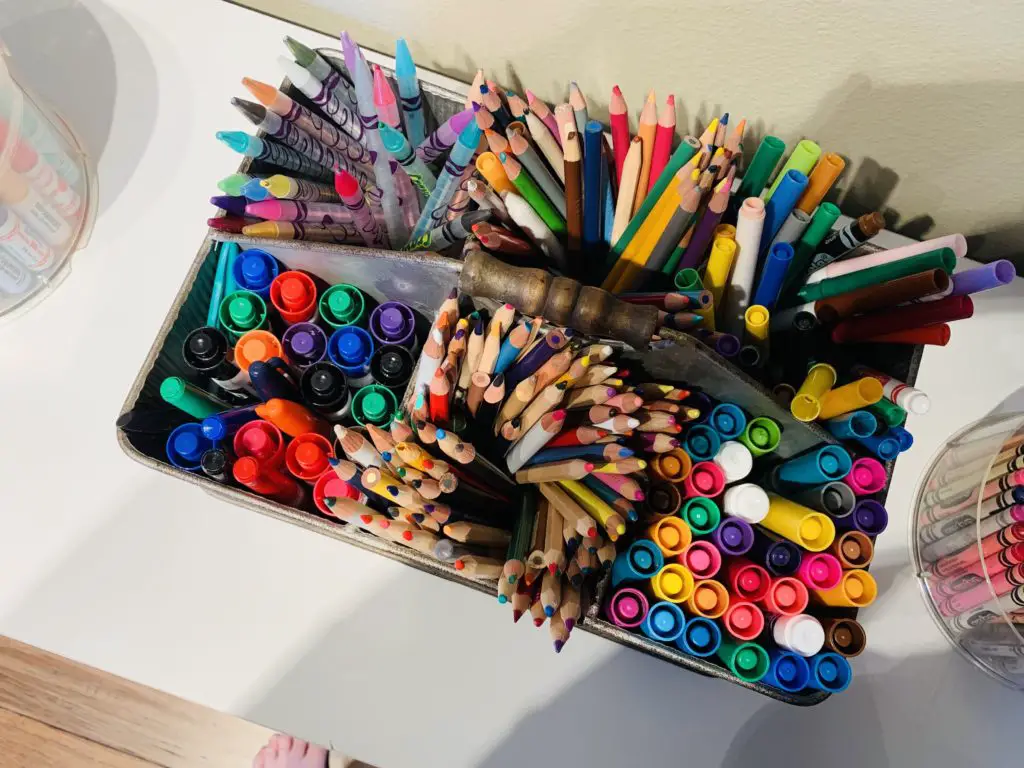 I have the same rule for the art supplies that I have for my books and games, and that is that if it doesn't fit in one of these containers we either don't need it, or need to throw away something else. When I have everything arranged like this, it is a really good visual for me as to what we need and what we don't.  In the past I would find myself thinking we would need something, only later to find 3 small stashes of that same thing randomly stuffed somewhere!  This system prevents that!  Its all in one place and everyone not only knows where to find, it but where to return it!  It's a game changer!
So there you have it friends, its just a small little corner of my homeschooling world but I hope that it has helped you or inspired you to not only get organized, but also get to a place where you can truly enjoy your space and focus more on your kids and less on the clutter!
If you like this or found this helpful, will you please share this with your friends! And if you want to get more of these helpful tips and tricks on a regular basis please hit the subscribe button!
Thanks so much for stopping by!