*This post may have affiliate links, which means I may receive commissions if you choose to purchase through links I provide (at no extra cost to you). Thank you for supporting the work I put into this site!
I recently developed a slight obsession with mini wreaths. Not only are they super cute, but they are the perfect way to dress up a window or door just about any time of the year. I am always a huge fan of adding pops of greenery to a room. This was just what my entryway needed.
When I first started this project I had no idea how to actually hang a wreath from a window. I am happy to announce, that is no longer the case. In fact, I actually LOVE the way they have turned out so much that I thought I would pass that knowledge onto all of you. 
Here are the supplies you will need:
Wreath(s) 

Ribbon

Thumb tacks

Scissors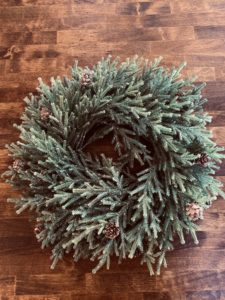 The first step is to pick out your wreath(s). I got mine at Hobby Lobby, but they are sold pretty much everywhere now days. The size and style are completely up to you and your specific project.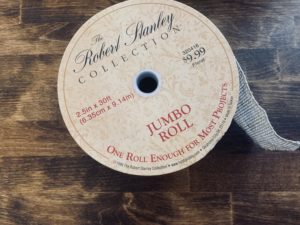 Next you need to cut your ribbon the  desired length for the look you want. I cut mine each at 8 ft long. I needed two 8 ft long strips. One for each wreath.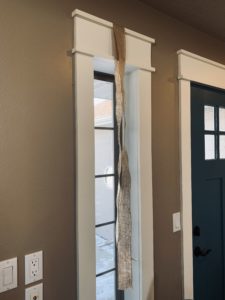 After you cut your strips, you need to fold each strip equally in half. 
Next you need to take the folded edge and a thumb tack and tack it to the top half of your window.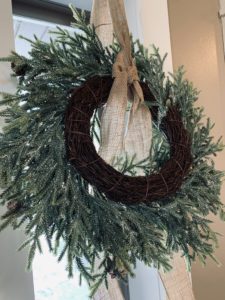 Next, you need to figure out what height you would like your wreath to hang. Then you carefully bring both ends around the wreath at your desired height and tie a knot.
You can then adjust the wreath accordingly so the knot hides neatly behind the wreath.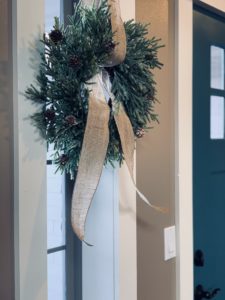 Last but not least, you need to flip your wreath back around and pull the remaining ribbon through the bottom of your wreath.
That's it! So Simple, yet so beautiful!