*This post may have affiliate links, which means I may receive commissions if you choose to purchase through links I provide (at no extra cost to you). Thank you for supporting the work I put into this site!
If your kids are anything like mine, they create an endless stream of priceless works.  From drawings and coloring pages, to the many school projects, there's certainly no shortage of art in our house.  However, it did not take me long to figure out that the side of my fridge or a heaping stack on my counter was not the ideal place to display it all!  I had to find a better solution.  After scouring the internet for ideas, here is what I came up with…
But before I got started I had a few requirements..
I wanted a system that would hold a decent amount of artwork,  I have 3 kids who are pretty consistently creating small masterpieces.  I needed a system that would support that
I wanted something that was fun and easy to put together.
Last but not least, I wanted a system where the art work could be easily swapped out by either me or my kids.  Being able to rotate old artwork out, and new artwork in fairly easily was important to me!
Here is what I came up with….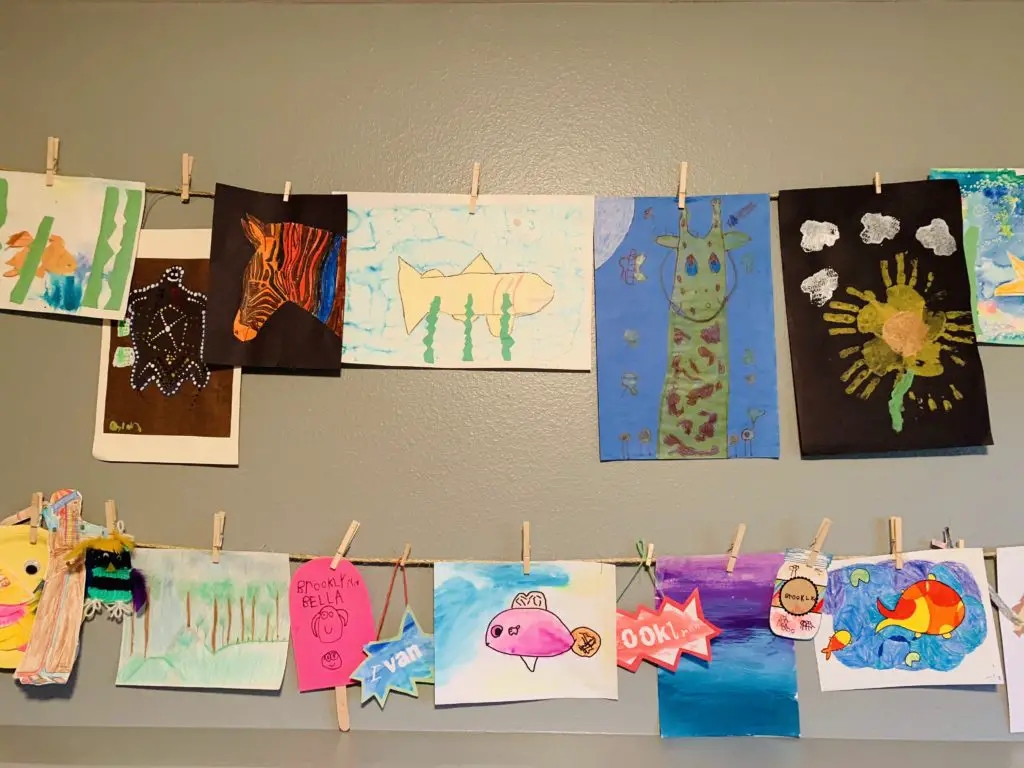 It was really rather simple to put together, cost less than $10.00 for everything, and can be configured in multiple ways depending on your style, your space, and your needs!
Here is another view….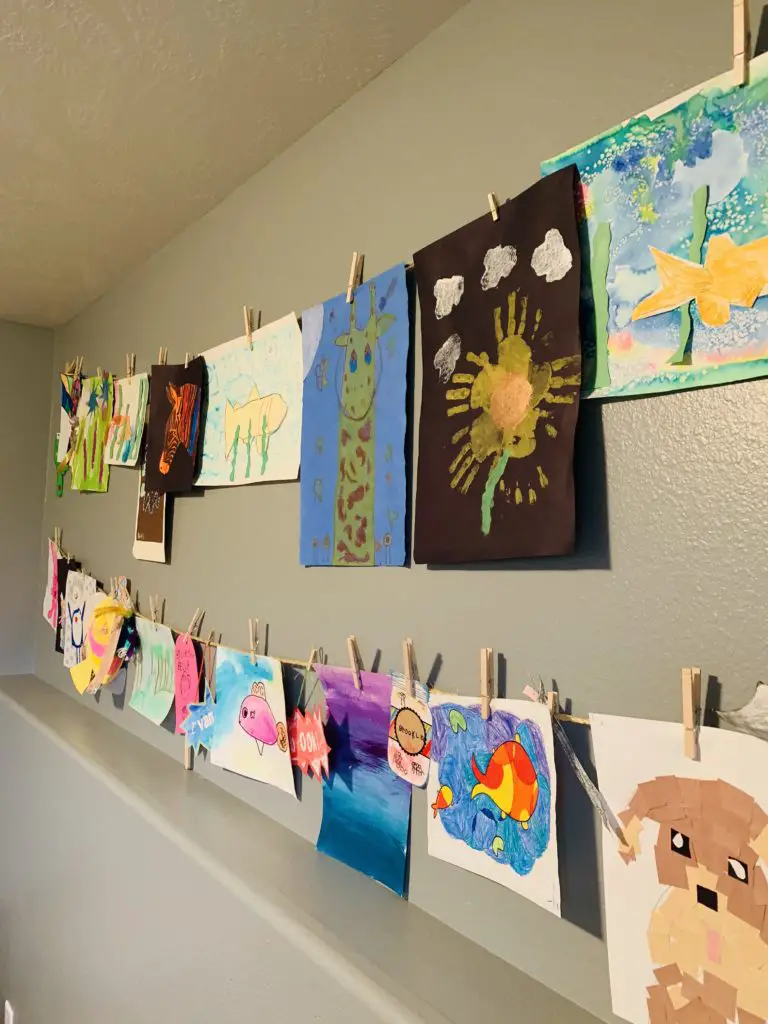 I love how easy it is to take down the old and put up the new…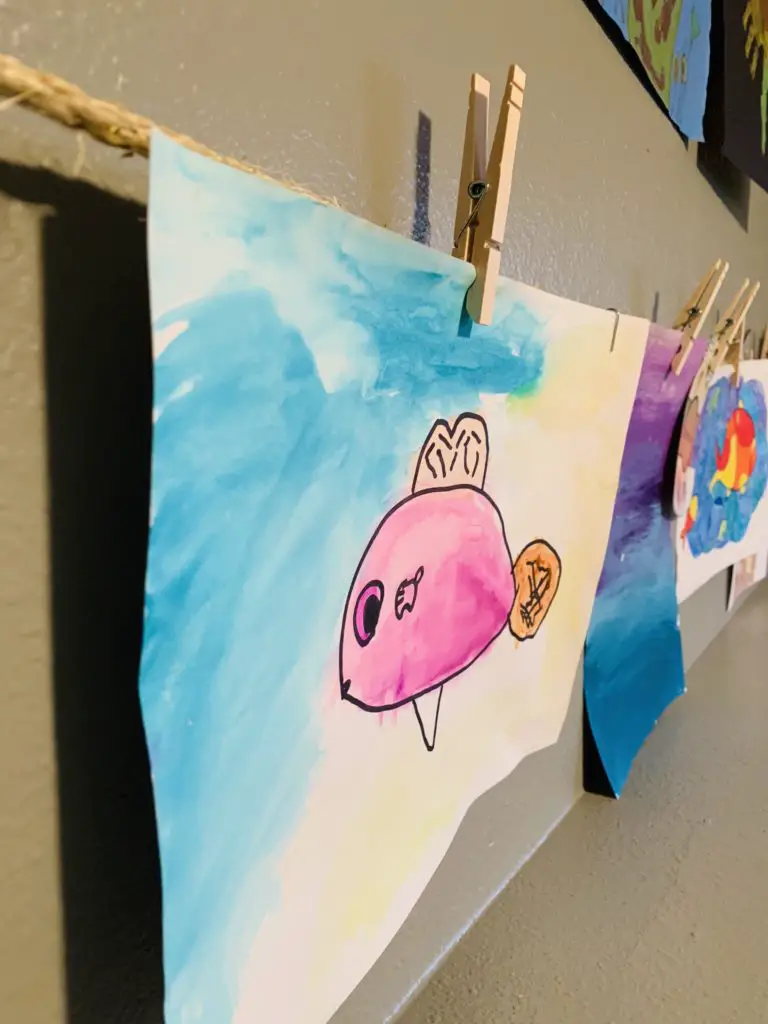 If I still have your attention and you want to know how I got it done, here is what I used…..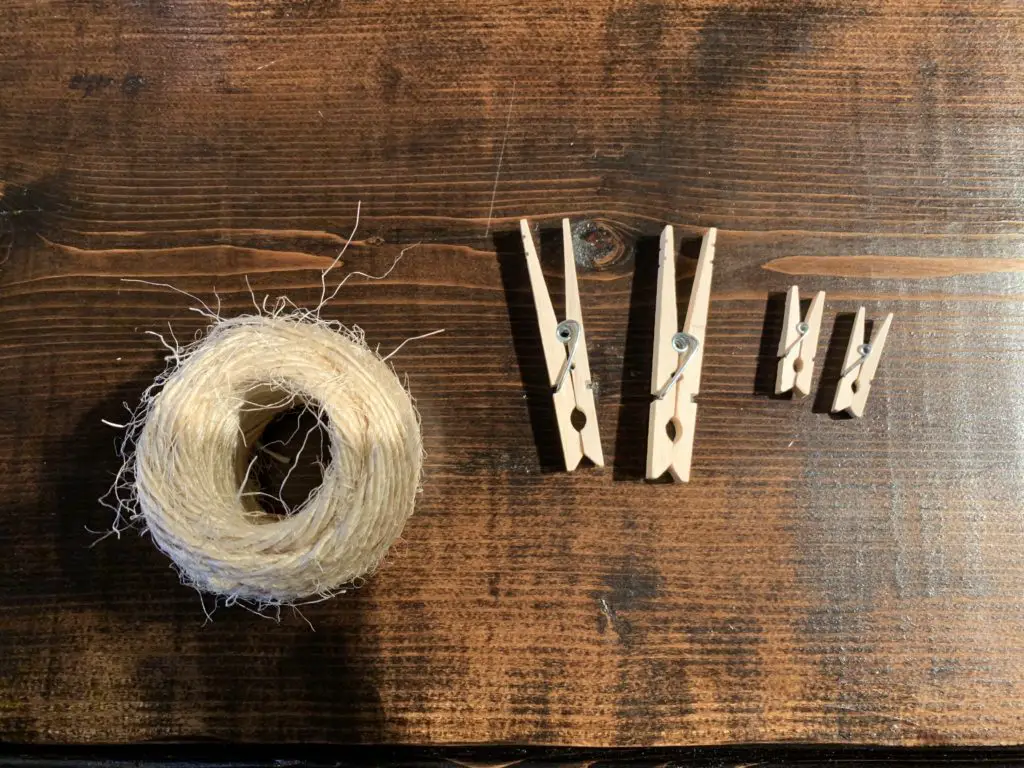 A ball of twine and a bag of clothes pins (big or small.)  That is it!  You should be able to buy all of this at your local Target, Walmart, or craft store!
After your supplies are bought, it is literally as simple as figuring out where you want your clothes line to hang?
How many rows you want and how far apart do you want them?
Next you need to pound a medium sized nail at each end where you want the line to go.
Lastly you need to tie the twine tightly around each nail, making sure to leave a little slack in the middle (kind of like a clothesline!)
Viola, you are done, know you just to hang all of those sweet little masterpieces, and enjoy!
My kids have all made comments on how much they like to see their artwork displayed!  Ours is situated in our homeschool room, but if you do not have something like that, this is perfect for a kids bedroom, a hallway, a playroom, a small den or space off of your kitchen, the possibilities are endless!
So…. if you were looking for a fun, creative, and easy way to get all of that adorable artwork off of your counter or your the side of your fridge, this may be the solution for you!
If you like this and found it helpful, will you please share!
Thanks for stopping by!